Rapid tool and machine inventory / counting at exhibition, service and maintenance companies with RFID!
Did I forget something!?!
Rapid tool and machine inventory/counting at exhibition, service and maintenance companies with RFID!
Always the same problem: The "on site" project has just been completed, you come back to the company and realize that you didn't bring tools, machines or other valuable equipment back with you.
Wouldn't it be great to take a simple quick inventory before leaving the location in order to then take one or the other almost forgotten "part" with you and save yourself time, work and above all money?
A booth builder approached us with this problem. Tools and other equipment are regularly left lying around after a job. A new purchase is always associated with effort and money.
Worse still - exactly these tools or equipment are needed again in the subsequent project. Extremely annoying!
The soltion from RadioForce!
• Step 1: All valuable parts (tool cases, special tools, electrical machines, etc.) are provided with RFID tags.
• Step 2: All valuable parts (tool cases, special tools, electrical machines, etc.) are photographed, registered with a corresponding description and possibly with the replacement value in a database.
• Step 3: Each part now has an individual, unique number and can be "linked" to the system with the corresponding description and photo.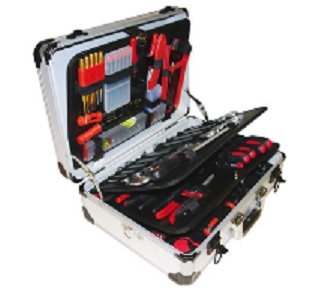 Quick inventory with PDA ON SITE!
Thus, the technical issues are initially covered in order to be able to carry out an inventory "on site". This is done with an Internet-enabled PDA (mobile reader).
This device reads all found tags (tool case with about 120 tools in 15 seconds). If a part is missing, it will be displayed and you can search for it, find it and enter it into the system.
This solution is scalable, i.e. you start small and can easily expand to many thousands of parts. Without additional effort. It doesn't matter whether it's a tool case or an entire tool/service vehicle. The possibilities are almost "endless".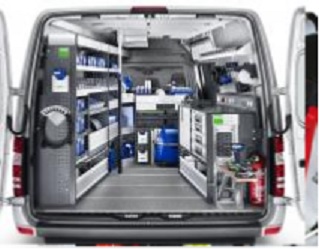 Nothing is lost anymore!
In addition, you can define a system in several levels and create badges, which in turn can form subgroups. A simple structure with a very big effect.
Depending on the amount of equipment, such a "quick inventory" takes the employee a few minutes. It saves the company hours and, above all, replacement costs (up to several thousand euros) for materials and tools.
Practically every part can be equipped with an RFID tag with very little effort. No matter what material or shape.
The stand construction company was enthusiastic. After viewing the valuable equipment families, the corresponding RFID tags (type, size, type of attachment) were defined and attached in the shortest possible time. At the same time, the data was entered into the database and finally "married" to the equipment during the initial inventory.
"Amazing," we were told after a test phase of around 6 months. "Since the introduction, we haven't "forgotten" a single part!"
Goal achieved!
If you want to know more about our tailor-made solutions, simply contact us. We're a phone call or email away.
RadioForce: +49 8168 9978180 or email: infos@radioforce.net