M2M · IoT · GPS Tracking · RFID · Metering · Monitoring · Data Management
RadioForce – the partner for M2M / IoT / GPS Tracking / RFID solutions
What is not defined, can not be measured.
What is not measured, can not be improved.
What is not improved, will always degrade.
William Thomson Kelvin (1824 – 1907)
KISS - Keep it Short and Simple
Under this motto, we have developed a solution for recording goods in industry and logistics.
Only things that can be implemented quickly and easily are implemented quickly and accepted by employees. With RFID, such solutions are very easy to implement.
What is where and since when? A simple question that still cannot be consistently answered in many companies today.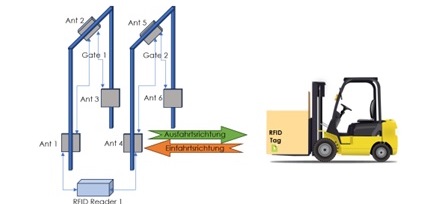 RFO-X2 (LF/HF/UHF)
Extremely robust PDA in smartphone format
The RFO-X2 mobile computer is a real all-in-one device. The handheld RFO-X2: a computer, a scanner, an RFID reader, a camera and a 4G/LTE phone.
Packed in a robust and compact housing, it can also be used outdoors. The RFO-X2 has the handling of an Android smartphone.
RFID for all cases
Both LF (125-134.5kHz) at Lifestock or waste management, as well as HF/NFC can be mapped with the RFO-X2. If that is not enough, so-called long-range applications such as bulk reading can be carried out with UHF. The RFO-X2 is a multi-talent.
Video X2 and X6 RFID PDA click here...
Read barcode up to 15m!
With the Pistolgrip-Sledge with integrated long-range barcode scanner, you can also use the advantages of long-range barcode scanning with the handheld RFO-X2 on the go. Usually, this technology is mainly used indoors. There is an additional battery in the pistol grip to enable longer working hours with the device. The integrated long-range scanner captures barcodes and 2D symbologies at a distance of 15 cm to 15 meters!
Environmental protection meets technology
The RadioForce GmbH faces the current and future challenges!

The RECY tag family is the first fully recyclable label on the market. Thus, end customers can meet the required requirements of environmentally friendly technology.

Above all, products that meet the environmental protection requirements can now be equipped with RFID technology without violating any conditions.

A big step for the environment and for RFID technology!
GPS tracker family including SIM card (EUROPA coverage) and WEB platform.
First COMPLETE GPS tracker solution with all required components (GPS tracker, SIM card (Europe) with variable tariffs and WEB portal (personalized) to quickly monitor goods, assets or other objects in real time.
A GPS tracker uses the GPS signal (Global Positioning System) to determine your location. The GPS transmitter uses the GSM signal (Global System for Mobile Communications) to transmit its location to the WEB portal.
The tracker family also offers special functions tailored to the applications (animal tracking, anti-theft protection, speeding or simple position information).
Various alarms allow routes to be better planned, redirected or shortened. Direct interactive influence on the operational process (optimal use of time and money).
Extremely simple installation. Can also be installed by non-professionals. Preconfigured packages can also be called up.
Optimal solution for the fleet of all company sizes.
The most important basic equipment of the Smart City / IOT concept. Real-time visibility control.
Smart City Concept
Smart City is a collective term for holistic development concepts that aim to make cities more efficient, technologically advanced, greener and socially inclusive. These concepts include technical, economic and social innovation.

M2M / IoT / GPS-Tracking RFID is an essential component of these concepts and have been implemented in different cities around the world for quite some time. The task starts with the simple data acquisition and the subsequent data transmission to the complex management of the relevant activities.
Applications using M2M / IoT / GPS-Tracking / RFID Technology