RFO PV230 (PolyVan)
You are here

RFO PV230 (PolyVan)
RFO PV 230
Request for quotation via email
Specification
Area of application
Facility Management
Cold Chain
Asset Management
Automotive
Healthcare
Industry
Service and Maintenance
Product description
The mobility professional for logistics, industry or health care
Always on the spot: From incoming and outgoing goods to production over to mobile data collection.
The PolyVan 230 is ideal for flexible data processing in logistics and industrial environments. Indipendent from the power supply system it allows the acquisition of goods and production data, as well as the printing of labels and documents onsite. This significantly reduces unneeded trips back and forth. The mobile workstation can acomodate - depending on the model - an industrial PC, barcode scanners, sensors, data bridges, gateways, RFID Reader/antennas or printers.
Even in a multi-shift operation, the PolyVan 230 can be safely employed. Optional an ergonomic battery change trolley is available, allowing simple and safe battery replacement during operation without waiting. Upon request, the mobile workstations can also be manufactured according to individual specifications.
Robust and flexible
Designed for harsh industrial and operating environment: comfortable to use.
Adaptable
Custom needed quantity and variable adjustment of shelves and work surfaces.
Individual power supply
High-performance batteries perform as required 12 VDC, 24 VDC or 230 VAC.
Variable hardware equipment
The PolyVan 230 technology can be equipped with all RFID products out of the AGILLOX portfolio. The additional installation of RFID readers, sensors, gateways, data bridges, barcode scanners and / or printers from different manufacturers is easy to implement.
Food and Pharmaceutical
The PolyVan 230 is also available for the food and healthcare industry in stainless steel.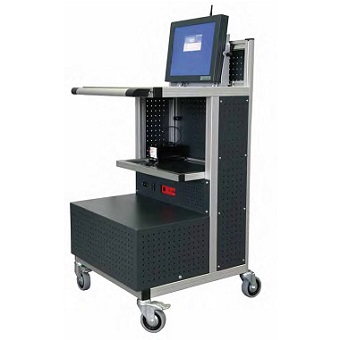 Trouble free accomodation of a monitor or industrial PC by the multi-adjustment bracket. Printer tray. Battery cover and removable back panel. Easy to move thanks to ergonomic handle and large wheels, very stable standing by the outside wheels and low center of gravity.