RFO AquaCity SW
You are here

RFO AquaCity SW
RFO AquaCity SW
Request for quotation via email
Specification
Area of application
Product description
Network and data management in one SW package
To achieve Aquacity system maximum performance a powerful software is needed that can manage the hardware network of remote reading devices as well as the information collected from the meters.
The software consists of 2 different blocks:
Library and Service Machine, successfully manage communications with devices and meters.
Online access WEB Interface, enables managing and making use of the data collected.
This software is specially desinged to be installed on any server, without requiring big resources, and therefore optimizing costs of the AquaCity network exploitation. Each software block can be installed on different servers, and using the MSS+TxNCOM block the software can even be embedded in the client's software.
2 functional blocks
TxNCOM(JAR) and MSS (WAR)
This package allows direct communication with the AquaCity network hardware devices making use of the different access possibilities.
The TxNCOM communications library enables communication with all the elements in the AquaCity network, simplifying communications
Integration of all available meter protocols allowing new protocols to be built in, and keeping the compatibility with the rest of the system
The MSS Service Machine, making use of the TxNCOM, collects the information from all the devices, verifying reception has been done correctly and ensuring 100 % of expected receptions intelligently managing retries
Network functionality access making webservice calls
Designed to be built in any software, enabling a complete network control.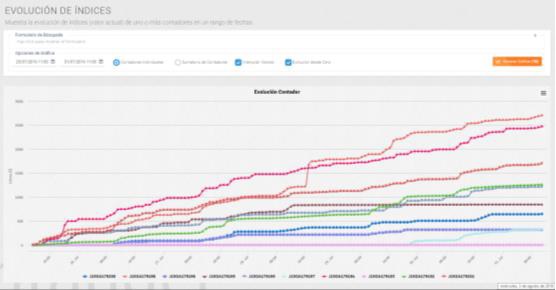 WEB Interface
WEB access application with user and password.
The application consists of the following modules:
Installation of new networks and topologies, extensions etc.
Maintenance of the hardware network and drinking water meters
Management of the readings from all the meters and scheduled meter reading collections from all sectors
Generation of necessary Files for each client, considering specific or standard formats
Graphs and Reports of the information collected, consumption evolution and historical data Hydraulic group definition to make water balances and computing efficiency of the water distribution network.
AquaCityUp, gives access to the physical values measured by the AquaCity system.