RFO-X2 (LF/HF/UHF)
You are here

RFO-X2 (LF/HF/UHF)
RFO X2 RFID
Request for quotation via email
Related products
Product description
Extremely robust PDA in smartphone format
The RFO-X2 mobile computer is a real all-in-one device. The handheld RFO-X2: a computer, a scanner, an RFID reader, a camera and a 4G/LTE phone. Packed in a robust and compact housing, it can also be used outdoors. The RFO-X2 has the handling of an Android smartphone.
Extremely robust mobile computer
The RFO-X2 also shines with robust properties and is classified according to IP65 and meets the strict MIL-STD-8120G test standards. Whether in dusty environments or in heavy rain - the mobile computer RFO-X2 is reliable and always ready for use. The 4.7 inch display with capacitive multi-touch is very easy to read even in strong sunlight and offers the right overview in this size.
Android for your business
The Android 11 OS runs on the RFO-X2 handheld. With Android, you can take full advantage of the powerful 8-core processor and have access to countless apps. The RFO-X2 is one of the few enterprise handhelds with a Google GMS certificate - this means unrestricted access to tools such as Google Maps and the Google Play Store.
Read barcode up to 15m!
With the Pistolgrip-Sledge with integrated long-range barcode scanner, you can also use the advantages of long-range barcode scanning with the handheld RFO-X2 on the go. Usually, this technology is mainly used indoors. There is an additional battery in the pistol grip to enable longer working hours with the device. The integrated long-range scanner captures barcodes and 2D symbologies at a distance of 15 cm to 15 meters!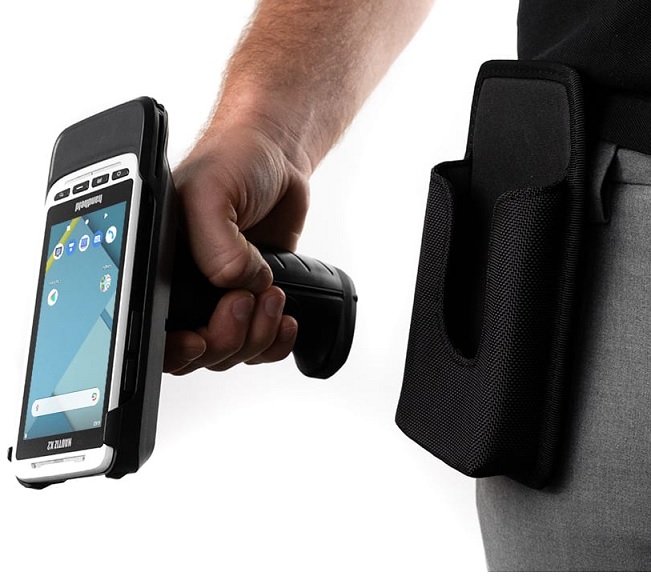 Central configuration of multiple devices
With the included MaxGo software suite (MDM tool from the Handheld Group), multiple devices can be configured centrally, software can be installed and updates can be carried out quickly and easily.
Long-range barcode scanning with 4G/LTE
RFID for all cases
Both LF (125-134.5kHz) at Lifestock or waste management, as well as HF/NFC can be mapped with the RFO-X2. If that is not enough, so-called long-range applications such as bulk reading can be carried out with UHF. The RFO-X2 is a multi-talent.