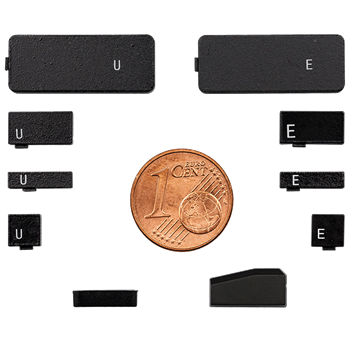 RFO BTAC
Request for quotation via email
Related products
Product description
RFO BTAC Tag
Smallest tags - embedded in tools, devices, medical instruments and more.
Small form factor - built into a confined space.
Exceptional long -lasting - resistant with extreme loads, dustproof and waterproof, resistant to chemicals, acids and extreme temperatures.
Versality - available in LF, HF and UHF and can be designed individually and adapted to application requirements.
The RFO BTAC Tags easily integrate into RFID applications that require a discrete placement of small, feather-light tags with adequate performance.
Ceramic units are optimized for placement on metallic devices such as tools, weapons and surgical instruments.
The hard housings of this tiny UHF transponder protect you from the dangers of sterilization in autoclaves and sophisticated industrial environments.
Your 512 bit memory is readable and descriptive with a distance of up to 1 m.
The RFO BTAC HF01 transponder is one of the smallest HF tags that are available. These tags are assembled with a patented technology that allows to produce in thinner, smaller formats during the day without impairing performance. The tags offer a full 64 bit UID and 1024 bit user memory, optionally usable for NFC applications.
The Epoxy RFO BTAC LF01 and RFO BTAC LF02 HDX low frequency transponders are only 0.12 in (3 mm) thick. The 160 bit reading/writing memory is easy to program and allows individual applications.
The HDX version is writing-protected and fulfills ISO 11784 and ISO 11785 standards. Both can withstand extreme temperatures and offer high resistance to water, chemical substances and bumps. Widespread in key fans for automotive removal drivers and theft protection systems. The tags are also ideal for tool or cable inventory and tracking systems.