RFO WRx Micro UHF
You are here

RFO WRx Micro UHF
RFO WRx Micro
Request for quotation via email
Related products
Product description
The RFO WRx Micro talks to everybody
The RFO WR100 support the following operating system: iOS, Android, Windows, Linux in white or black housing.
Small but lots of power
The RFO WRx Micro is a newly-developed wearable UHF reader that enables read distance of 9m. By adapting the wrist strap or arm strap, it can be attached to a mobile phone, tablet and other devices by magnetic attachment.It features removable battery, performs data transmissionvia Type C USB and enables user information / interaction via Bluetooth coordinated with an APP or SDK.
Glove to fix on your hand
The optinal glove gives the user all liberty to handle items with both hands. The integrated trigger allows fast and easy RFID reading.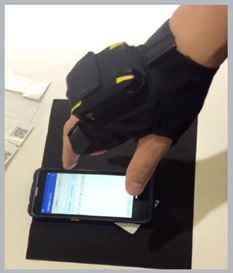 Always connected
It also can be paired with Android / IOSdevices to expand RFID capability. This RFID reader can be suitable for warehousing, power inspection, asset management, retail, etc., which provides users with more flexibility to efficiently finish their tasks at hand.