RFO RT8 RFID
You are here

RFO RT8 RFID
RFO RT8
Request for quotation via email
Product description
Always one step further
The RFO-RT8 can be equipped with HF/NFC and as a separate device with UHF passive RFID technology. Thus, it leaves nothing to be desired, even in a modern industry! HF/NFC is integrated into the RFO-RT8. The RFO-RT8 brings the expandability, modularity and versatility you would expect from a powerful device.
Ultra-rugged efficiency
Imagine doing what you always do, only better. The RFO-RT8 is a unique 8-inch tablet with Android operating system, which ensures greater efficiency, especially when working outdoors, for faster and more concentrated work without unnecessary interruptions. The RFO-RT8 is a resilient device with an impressive display, user-friendly design, numerous built-in features, optional accessories and even a free software package for mobile device management. In our opinion, this tablet can do everything that a standard tablet can. But that's not all, it can do much more.
Android tablet for every situation
You can put this tablet in your truck's docking station. But it doesn't have to stay there. Carry it in a holster or in a shoulder tote and pick up where you left off, even in bright sunlight or driving rain. Thanks to its IP67 classification and the robustness according to MIL-STD-810G, the RFO-RT8 can accompany you everywhere. It is so robust that it is even resistant to repeated falls, extreme temperatures and altitudes, humidity, dust and water. Thanks to the long battery life and the exchangeable battery pack, which can be exchanged on site in no time at all, you are ready for use all day long.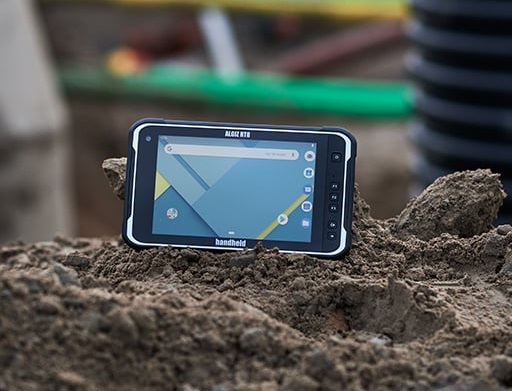 Integrated data acquisition and communication
The RFO-RT8 reveals its true value when it comes to capturing and sharing all kinds of data. Take a high-resolution photo and email it to colleagues or update your company database in real time. Work orders are always up-to-date and the data is stored securely, both on your device and in the selected cloud system. Use the u-blox GNSS receiver integrated in the tablet, the gyroscope, the compass and much more or plug in your own tools, sensors and antennas. Use the waterproof connectors, work with BT and NFC connections or use the desktop docking station with more connectivity options like HDMI, Ethernet and others.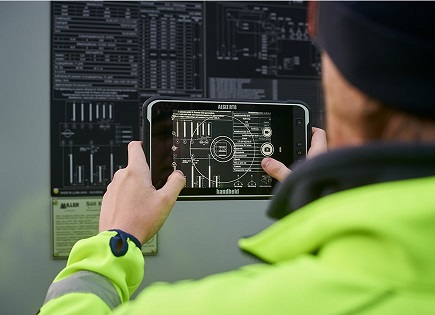 An 8-inch multi-touch display? That's brilliant.
Not everyone works indoors. So imagine: You are at your place of work with a mobile tablet, have maps, images, tables, reports and overviews at hand and can work with them directly. Whether you have your "office" on the construction site, in the forest or in the warehouse, the RFO-RT8 impresses with its clear, brilliant 8-inch capacitive display with 10-point multi-touch function and reinforced Gorilla Glass. For the Working in the rain or cold, the RFO-RT8 offers rain or glove mode.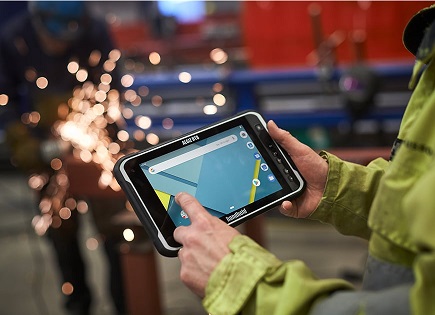 Mobile device management with free MDM software from MaxGo
Setting up new devices can be nerve-wracking, especially if you work with multiple devices. With Handheld's MaxGo software package for Android devices, you save your settings once, transfer them to all your devices, and you're good to go. With MaxGo Manager, Staging, Kiosk Home and Kiosk Browser, your RFO-RT8 is always secure, incredibly efficient and individually tailored to you.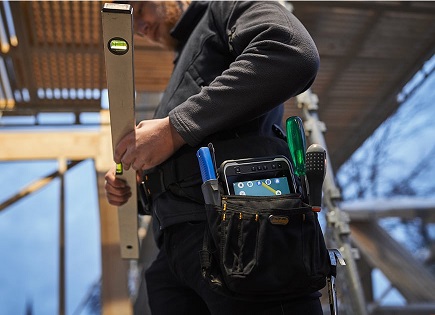 Carrying cases, docking stations and charging accessories
Handheld devices are made for being shaken up in trucks all day, scanning items in storage, or collecting and storing scientific data in the wilderness. Very often, the right accessories make the difference between what a device could do and what it actually does. With the large range of handheld accessories for the RFO-RT8, you have your hands free and you can always keep an eye on your work, you can charge your batteries or connect your own devices.