RFO-RFID-Printer-G-Series
You are here

RFO-RFID-Printer-G-Series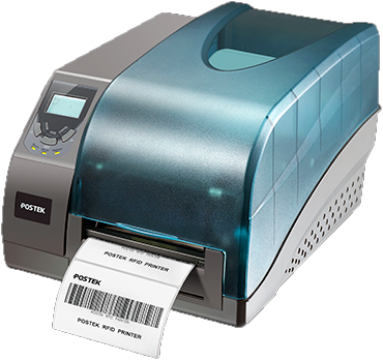 Postek RFID-Printer-G-Serie
Request for quotation via email
Related products
Product description
LONG RUNNING INDUSTRIAL PERFORMANCE IN A SMALL FOOTPRINT
The idea behind G Series has never wavered to craft the ultimate desktop experience with industrial features and performance Ultra-stable mechanism, optimized structural design of the printhead module and super performance central control system all within the small footprint light industrial printer.

OVERVIEW
The optimized design of the printhead module, the innovative left-right structure and the patented convective heat transfer forge a highly reliable G series printer that is capable of handling wide ranges of consumables and heavy-duty printing work.
The G series printer carries all the advantages of conventional industrial label printers with added advantage of significant space and cost savings.
FEATURES
Heat Equalizing Algorithm Technique (HEAT™)
HEAT™ technique, which assures real-time monitoring and accurate calculation on thermal control, newly developed by POSTEK, is a cutting edge technology in heating control of thermal print-heads. With HEAT™, the POSTEK printers can significantly improve their performance in the aspects of printout clarity and print speed.
Printhead pressure and ribbon tension adjustment
The optimized structural design of the printhead module allows easy adjustment of printhead pressure. Thus the new G series printer is accomplished with strong compatibility between wide ranges of consumables and exceptional print quality, as well as reduced maintenance cost and enhanced cost-effectiveness.
Easy adjustment of ribbon tension
The easy-operating assembly of ribbon tension adjustment ensures steady and reliable work performance.
National patented "Convective Heat Transfer"
National patented "Convective Heat Transfer" technology always ensures a cool working temperature, even when printing 7×24.
Left & Right structured Industrial level performance
One-piece chassis, strengthened in every side, providing high quality and reliability. Left & Right structure design, completely separate the central control system from the operational area, making it much easier to operate and maintain.
Bearings reduce wear and friction and ensure durability
All rotating parts are supported by ball bearings or fixed bearings, thereby eliminating wear caused from direct contact with plastic.
Heat Equalizing Algorithm Technique (HEAT™) Super Definition 600dpi TPH
G6000 barcode label printer is introduced as the new breakthrough for High Definition printing. As the newest thermal control technique – Heat Equalizing Algorithm Technique (HEAT™) is applied, the new G6000 is optimized for high resolution printing, as well as wider range of printing needs. The combination of advanced, intelligent and safe HEAT™ technique, the super definition 600dpi TPH, and the innovative structure design contribute to the more powerful and intensive features of the new G6000, making it an ideal choice for efficient and high-quality printing demand.
(only supported on G6000)
Precise positioning allows super small labels' R/W
Inheriting from our pursuit of excellence, and with the integration of advanced UHF RFID Encoding & Printing technologies, the new G Series RFID printer carry out tasks with great consistency and speed throughout its performance, bring the efficient and precise print solution for your demand.
Reads and writes to UHF RFID tags precisely, the minimum space allowed between inlays comes down to 16mm, which is found to be the smallest in the market and no other printers are capable of.
Innovative antenna module design R/W after thermal Printing
Reading/Writing after printing, helps you to recognize every single bad label.
Intellectually finds the antenna position by one button press
Correctly finds the antenna position and the optimum writing position by just one button press. (only supported on Ge Series)