RFO-X6 (LF/HF) Data Recorder
You are here

RFO-X6 (LF/HF) Data Recorder
RFO X6 RFID
Request for quotation via email
Related products
Product description
The ultra-rugged Android phablet with RFID (LF/HF)*
If you could take the high-visibility functionality of a tablet and the go-anywhere performance of a rugged handheld and combine them, you'd end up with one device that could take you through your workday with ease. Fortunately for you, this state-of-the-art solution already exists: it's the RFO-X6 ultra-rugged Android phablet. Optional LF (125-134,5kHz) or HF (13,56MHz) reader!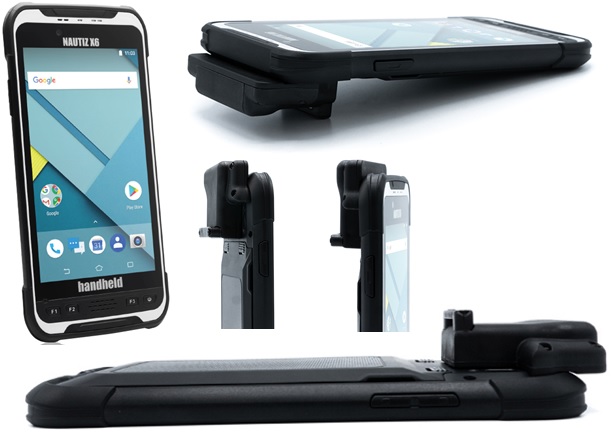 Small profile, big impact
The RFO-X6 brings the best of a conventional tablet and a traditional rugged handheld in a single device. It has the large-screen functionality of a tablet, with the work-anywhere ruggedness of a handheld. Enjoy an expansive 6-inch touchscreen display that's sunlight-readable and protected by super-hardened Gorilla Glass. And this winning combination is still lightweight and super slim, making it a perfect rugged phablet to easily bring anywhere.
Link to Youtube video click here...
Real-world capabilities in the rugged world
The RFO-X6 ultra-rugged Android phablet is ideal for rough-and-tumble applications like surveying and GIS, with a superior GNSS receiver for precise, continually available position and time information. In the warehouse, read NFC tags, or use one-button scanning to track virtually anything. The high-res rear/front cameras capture detailed images, and an array of sensors carry the load for a multitude of tasks. The RFO-X6 fits perfectly in your mobile workforce — whether you are in utilities, foodservice, field service, GIS, warehousing, or logistics.
Designed specifically for outdoor work
Field workers need a tool that can handle the job anywhere, and last as long as the shift does. The ultra-rugged RFO-X6 has both covered. It meets a wide range of the MIL-STD-810G test standards for operating in extreme temperatures, handling drops, vibrations, humidity and altitude. An IP67 rating means it is fully dust- and waterproof. And it's got serious staying power; the robust user-replaceable battery can work even multiple shifts on a single charge.