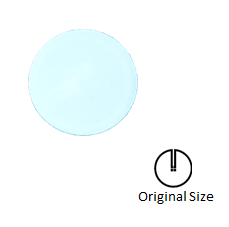 RFO-BUTIV11
Request for quotation via email
Related products
UHF Fix Reader
UHF Handheld Reader
UHF Smart PDA
Product description
Extremely small round UHF label
The RFO-BUTIV11 is an RFID tag. The cover material is paper-based PVC.
Standard features :
- The frequency is 860 - 960MHz
- EPC: 96 bits / TID: 32 bits serialized
- The standard delivery format self-adhesive die-cut label (wet paper insert)
- 100% yield on standard rolls (bad tags have been replaced)
- Medium gloss face paper, suitable for thermal transfer printing with selected ribbons
- ISO 9001 and ISO 14001 certified
High reading range for the extremely small size
In addition to environmental friendliness, work was also done on performance. The RFO-BUTIV11 thus achieves better readability than comparable conventional UHF labels.