RFO WM2626 UHF
You are here

RFO WM2626 UHF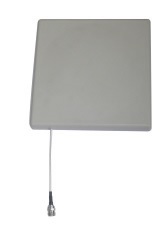 RFO WM2626
Request for quotation via email
Related products
Product description
Small and effordable antenna for various UHF applications.
The RFO WM2626 is an Circularly-polarized panel antenna for various RFID applications. It is used in different applications at Automotive, Industry, Logistics, Healthcare, Areonautics, Production, Asset-Management or Inventory applications.
Easy to mount this antenna is supplied with down-tilt mast mounting kit to be able to place it in all different directions. Indoor or outdoor is suitable for the antenna with is IP65 class.
The performance will be exceed your expectatations
Performance Specifications
➢ Maximum VSWR: ≤1.4
➢ Gain: > 9 dBi
➢ H side HPBW: 70°
➢ E side HPBW: 65°
➢ Polarization: Circular Polarization
➢ Relative humidity: 5%~95%
➢ Input Impedance: 50 Ω
➢ Antenna Connection: 1m cable with N female