RFO LEP01 Data Bridge
You are here

RFO LEP01 Data Bridge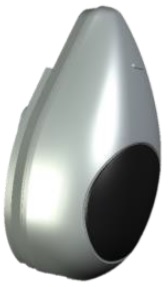 RFO LEP01
Request for quotation via email
Related products
Product description
Autonomous with solar panels and/or rechargable batteries
The RFO Line End Point (LEP01) is a communications device for data transmission in a radio network in the free ISM bands - Industrial, Scientific and Medical – 169 MHz, 433 MHz, 868 MHz or 915 MHz that allows to gather metering information from radio meters and bus cable meters.
To provide a solution to needs associated to the reading and control of water meters, the AquaCity system integrates radio frequency modules with high sensitivity and low current consumption.
The devices gather the readings directly from the meters, making use of different metering protocols adequate for each type of meter, encoding the information and sending it under AquaCity Gateway request.
System functionality
Stand alone intelligent devices with the capacity to obtain data from different types of water meters making use of different radio frequency protocols such as WAVENIS, WirelessMbus (UNE13575) or cable protocols such as UNE82326.
Intelligent communications management to accomplish 100 % of the readings programmed
Over 10 years lifetime with interchangeable batteries of great capacity, which allow total flexibility to the installation
Remote firmware upgrading
Automatic low battery detection and safe switching to standby system
Warnings associated to monitoring of internal parameters
Monitoring of different internal parameters such as battery level, schedule, temperature etc.
Reading and storage of warnings
Ultra low consumption device
Reading and storage of events
Masking of warnings
Possibility to customize the enclosure based on needs.
Installation princip
The RFO LEP01 can be fixed to lampposts, radio masts, buildings etc. Due to the autonomous power source no power cord is necessary.